Nursery and Reception 2019 - 2020
Mrs Jones
Mrs Caton
Mrs Strick
Nursery & Reception Easter Project!
Make a Wormery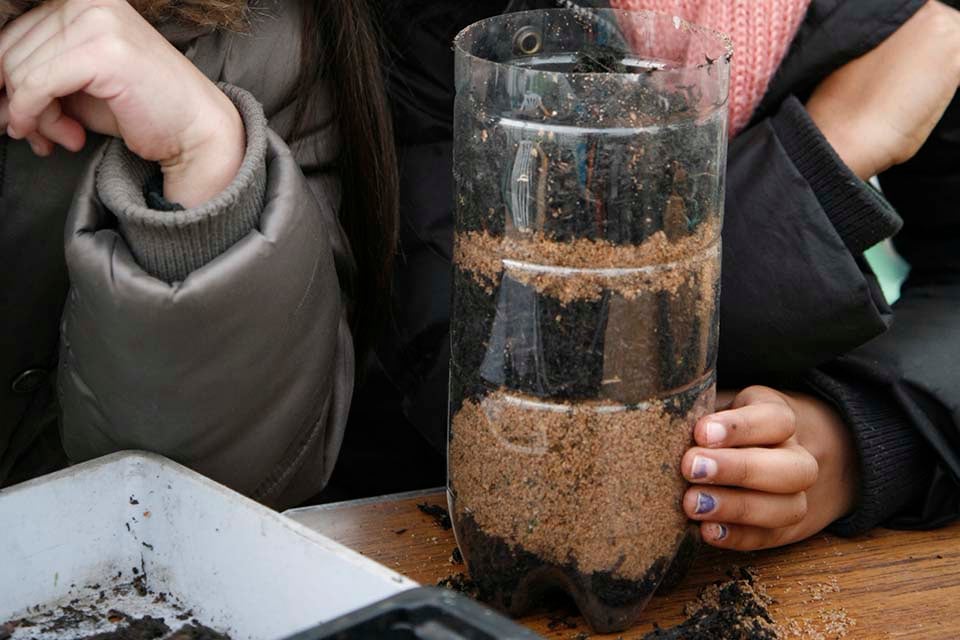 Look on these websites;
https://schoolgardening.rhs.org.uk/Resources/Activity/Mini-wormery
http://www.mums-dads.co.uk/childcare/how-making-a-wormery-supports-your-childs-early-years-education/
Send photos to share!
Reception children should also write a list of the things they need to make a wormery and make a drawing with labels of the finished thing.
Please add photos of the children's writing to their Earwig Timelines.
Read 'Superworm' by Julia Donaldson
If you don't have a copy of the book there are several videos on YouTube.
There is nothing we love more than taking a story that we enjoy reading
and making it come to life with toys or puppets, but with the story of
Superworm it just seems like the perfect opportunity to make play dough
worms instead!
Play dough Recipe
You will need
8 tbsp plain flour

2 tbsp table salt

60ml warm water

food colouring

1 tbsp vegetable oil
Method
1. Mix the flour and salt in a large bowl. In a separate bowl mix together the water, a few
drops of food colouring and the oil.
2. Pour the coloured water into the flour mix and bring together with a spoon.
3. Dust a work surface with a little flour and turn out the dough. Knead together for a few
minutes to form a smooth, pliable dough. If you want a more intense colour you can work
in a few extra drops of food colouring.
4. Store in a plastic sandwich bag (squeeze out the air) in the fridge to keep it fresh.
Read through the story together, then make some worms! Play dough is great
for fine motor development. At school we have a daily 5 minute challenge to
improve the children's fine motor skills. See how many worms they can roll in 5
minutes! Repeat each day for a week and watch the improvement :)
Look back at the story and recall the repeated phrase from the book that starts with
"Superworm is super long…" so try to make the longest Superworm that you can possibly
make, without breaking the play dough. Hold your worms next to a ruler to measure how
long you made them, a great chance to teach measuring skills and number recognition.
Why not make your worm into a swing for little bugs and to stretch out over the ruler as a
slide for the bugs to play on?
Please add photos of the children's worms to Earwig Timelines
Happy Easter – Have fun and take care
Mrs Jones
While school is closed please ensure you regularly spend time sharing stories and rhymes with your child. Reception children should be reading a little every day and could keep a simple written diary of what they have been doing at home e.g. Lego constructions, junk modelling, baking, games etc.
I have been in contact with Earwig and parents should very soon be able to add observations of activities at home to their child's Earwig timeline.You will see an extra button when you log in. The process to upload an image or video clip and create a record is very simple and hopefully you should have no trouble adding a bit of colour to your children's school record.
Nursery children should be encouraged to mark make, draw and practise writing their names, following the letter formation on the name cards that were sent home. A few simple resources were sent home in red folders for all children and below are some valuable online resources.
Free Reading Scheme eBooks with Oxford Owl
Access the sign up page and sign up as a parent here. Visit resources on Oxford Owl for Home website.
Accessing Education City Classwork
Each week I will be setting new home learning tasks through Education City's (EC) 'Classwork' section. These are specific activities on EC that children should be working on. Children can log on, view and complete the activities through their EC login. Teachers can then use their logins to see which children have completed the set learning tasks.
These instructions are for the desktop site. I have included screen shots to illustrate an example.
Go to

educationcity.com

and click 'Log In'. Login using the username and password. You can find these in the red folders children were sent home with from school.
When children log in, they need to click on either of the yellow 'Classwork' buttons on the left or bottom of the screen.
Make sure the 'Classwork' tab is selected. Children will have folder(s) named either F1 or F2 and the teacher's name who set the work.
Click on a folder to open it. Inside will be links to the activities that the teacher has set for the children.
When an activity has been completed, teachers will receive an update via their logins so they can keep track of which children have completed tasks.
Woodland Trust Nature Detectives
The Woodland Trust has some simple, nature-based activities you can enjoy together at home or in your garden. Spring is a great time for children to be outside in the fresh air. We planted peas at school last week which are fairly easy to grow. It would be lovely if we could share photos of the children exploring outside in their gardens; looking for bugs (always a very popular activity!), making potions, stick men or mud monsters.
You can email me at jojones@castleprimaryschool.co.uk
Have fun and take care.
Mrs Jones
Files to Download
Nursery and Reception: Important News items
There are no Important News items to display
Nursery and Reception: Blog items
Nursery and Reception: Gallery items
Nursery and Reception: Events items
There are no Events items to display